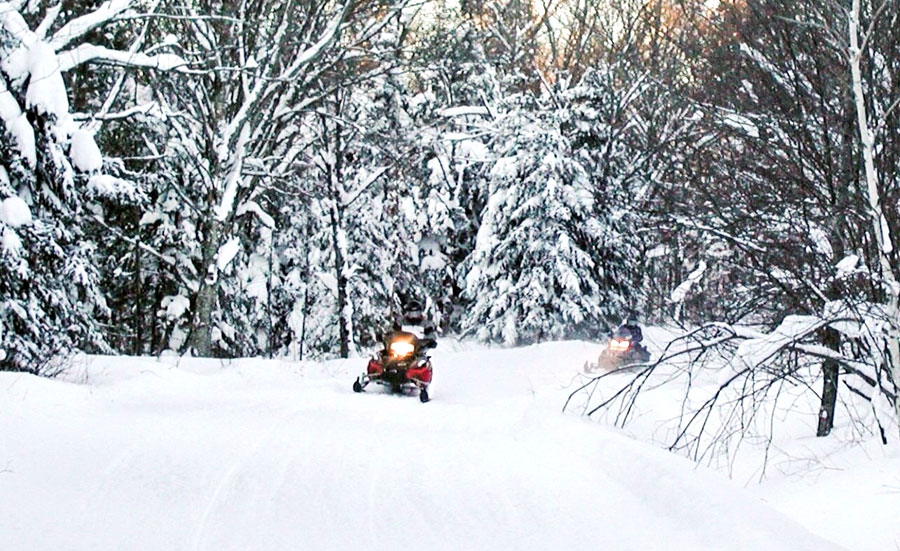 Photo Credit: Ron DeFeo
x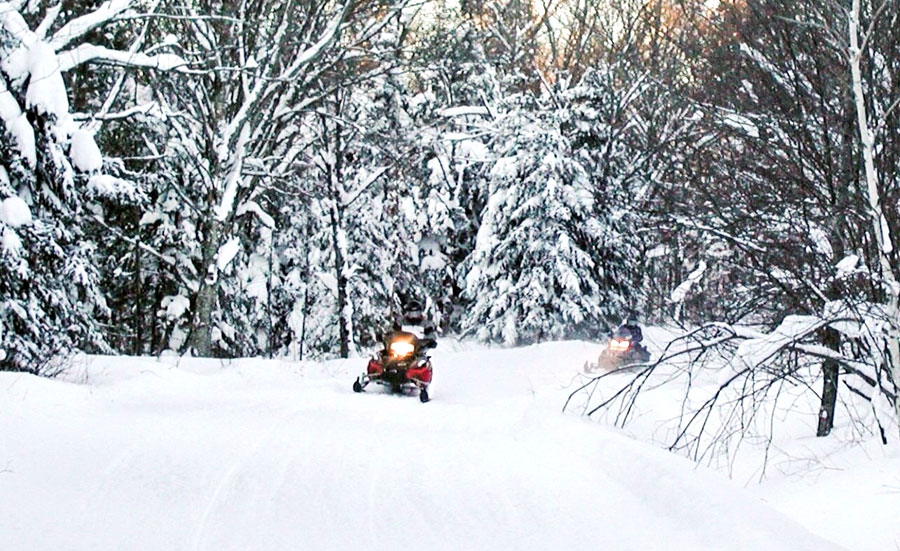 2017-12-15
A Family Snowmobile Adventure
When the snow flies, my first thought is snowmobiling —the thrill of that first ride of the season. But deciding where to go is often the first hurdle. The choices are many and varied.
Have you ever thought about traveling to a remote, scenic region for a snowmobiling adventure? The Kennebec Valley is well-known for its Interconnecting Trail System (ITS) of finely groomed trails and whimsical terrain that ranges from mountainous to flat. I've explored the vast countryside, spotting intriguing wildlife along the way, such as moose, deer, and a bald eagle. The most exhilarating adventure was the climb up Coburn Mountain to get an eagle-eye view of the breath-taking scenery from the top. Our guide informed us that this is the highest groomed trail in the State of Maine. We could see for miles, the icy trees, snow-covered mountains, and the glistening snow below.
It isn't just about a spectacular view from the top. It's the thrill you get when you grasp the handlebars of your snowmobile and slowly accelerate over freshly groomed snow. Sometimes, it's the serenity of a quiet resting spot surrounded by mountains of white that spurs your imagination.
When I go riding, I look for areas that have a longer snowmobiling season, making it easier for return visits. Here in the Kennebec Valley, local clubs post signs and groom the trails from mid-December to mid-April, depending on the weather patterns. In addition, the varying trails range from beginner to experienced, so there's something for everyone. Most lodging facilities have convenient, easy trail access which allows for shorter day-trips to a favorite restaurant, a scheduled event, or a family sledding adventure. This year, I think we'll add an ice fishing experience to the family vacation week, since trout, cusk, splake, and landlocked salmon can be caught in the frozen ponds of the region, also easily accessible by snowmobile.
Not owning a snowmobile should not deter you from trying the sport out. There are several sled rental operators offering machines, equipment, and safety instructions for a day of fun riding. We decided to purchase our own, though, at a local, well-established dealership that offered a large variety of models to choose from and all the gear needed to get us out and on the trails. Area businesses offer repairs, storage, and supplies for visitors bringing their own machines to the region. Check with thelocal chambers of commerce for more information and area maps. If you don't know the area very well, or, if you are unsure about venturing out on your own, hire a local guideto help alleviate any uncertainty.
Whether you rent or own, the sport of snowmobiling opens up a whole new world of vacationland wonder and memorable experiences. Wildlife watching, photography, ice fishing, and snowshoeing are just some of the activities you can incorporate into your family snowmobiling adventure. Create your captivating vacation stories in the heart of Maine's winter wonderland—the Kennebec Valley.
Courtesy of Annie Nielson, Jackman-Moose River Region Chamber of Commerce