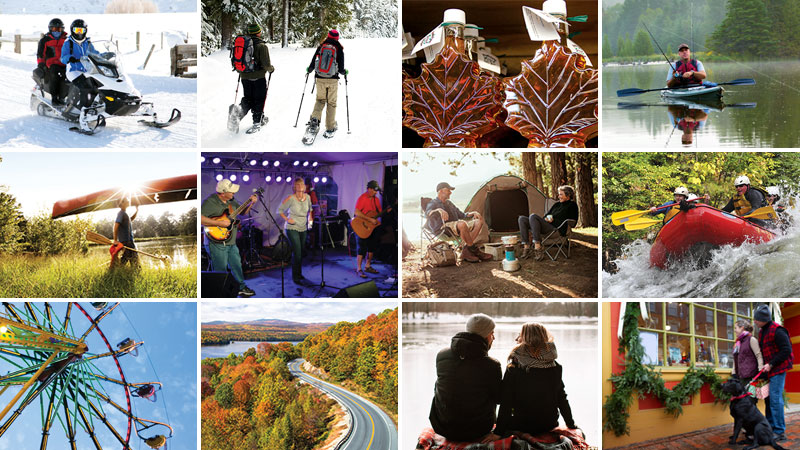 x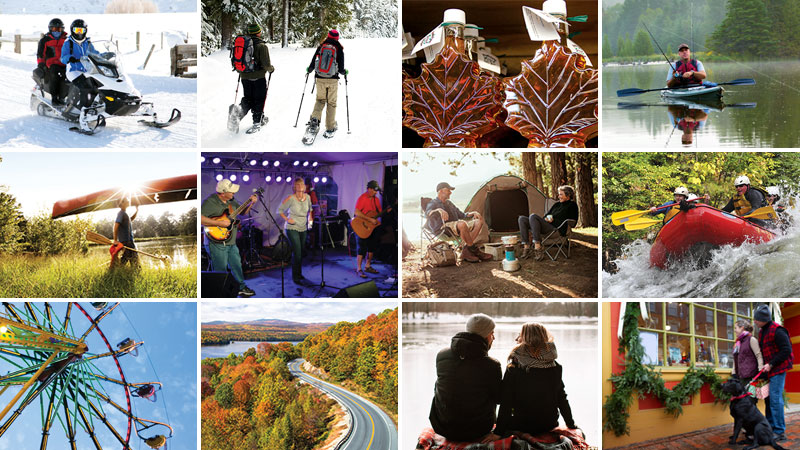 2019-01-10
A Full Year of Adventure
Go Your Own Way, All Year-Round
All year round there are fun things to do in Maine's Kennebec Valley. So make a beeline to the region's riverside towns and backroads to experience adventures of all kinds that you will never forget.
JANUARY: Snow, snow and more snow. We've got snow by the bushel basket full in Maine's Kennebec Valley. With sunny, bright days and well-groomed trails a snowmobiling trip here is a must for all outdoor winter adventure enthusiasts.
FEBRUARY: Get out and play! Kick the winter doldrums by pulling on your warmest winter coat and getting outdoors for snowshoeing, pond hockey, ice fishing, skiing or even some skijoring at the Somerset Snowfest. Take part in the Great Maine Outdoor Weekend, free Nordic skiing events happening in Waterville, Maine's Free Fishing Days, or a Winter Carnival on Snow Pond.
MARCH: Tap into the fun of maple! How many ways can you think of to enjoy Maine Maple Syrup? Not "just for breakfast" this sweet delight reaches new heights in all kinds of food. And Real Maine Maple is the best. On March 24, Maine Maple Sunday, nearly 20 maple producers in the region open their doors to that magic. Plus, Skowhegan celebrates with numerous events during the preceding week including a March Madness youth basketball tournament.
APRIL: Fly-fishing the Northern Kennebec. Once the ice loses its grip on the cold waters of the Kennebec, hatches offer fantastic opportunities to hook beautiful native and stocked fish along the banks and in the tributaries feeding the Kennebec River. Our welcoming sporting camps and resorts are here to make your trip one that is more than just a fish tale.
MAY: Tune up for some outdoor fun. Late spring in Maine is all green, mossy and often surprisingly warm. Breezy days and brisk nights are perfect for hiking, paddling or biking. Seek out and discover the region's most pristine parts. Remember to pack your gear for some early season camping if you want or wander along the trails in amazement as the woods return to life. If you can't get out to the woods visit Augusta's Viles Arboretum or the Bond Brook Trails; Quarry Road trails in Waterville or Lake George Regional Park.
JUNE: A mighty festival season begins. Our festival and event season begins early in June and runs into the early days of fall with an ever-growing assortment meant for all—from the Fiber Frolic all the way through the Skowhegan Craft Brew Fest. Our events offer something for everyone, from the best music served up along the Kennebec with Waterville Rocks and the Waterfront Concert Series in Gardiner to tasty draughts of locally-brewed craft beer. This year check out: Whatever Festival—a month of events in and around the state Capital at Augusta; an alphabet of musical genres with Atlantic Music, Blistered Fingers, and Country Fest; Movie buffs can choose from MIFF or MOFF, plus for the eaters there is the Egg Festival, the Kneading Conference, and in August take a taste of the regions best food at The Taste in Waterville.
JULY: Bright days + starry skies + camping = family fun. The first and best way to introduce a kid to the outdoors is with the classic family camping trip. Whether it's a lakeside fish camp near Monmouth or under the thick green canopy in the woods near Jackman, wander through forests by day, set up camp, build a fire and fall asleep to crickets and peepers under some of the darkest star-filled skies in Maine.
AUGUST: Woosh, roar, this is Whitewater Rafting. If you have never been tossed about in a bright yellow whitewater rafts, then it's time you gabbed some friends and took a rafting trip on the Kennebec and Dead Rivers. Sure, the season kicks off in May and runs all the way through to October making the Kennebec Valley the undisputed king of New England rafting bliss, but August delivers a great escape from the summer heat. From a daylong float to a rip-roaring trip during a turbine test with blazing fast water and monumental wakes we have the trip for you.
SEPTEMBER: It's only Fair! As home to nearly half of the dozen official agricultural fairs taking place here each September, we can proudly say that we hold the blue ribbon high for Best in Show when it comes to Maine's Ag Fairs! From down-home fun to grand spectacle the Kennebec Valley has the fair to fit your fun factor. Warm up your skillet tossing arm and bone up on your competitive eating (even if it's just for fun).
OCTOBER: Leaf-peepers welcome. One ride up (and back) along the Old Canada Road Scenic Byway (Route 201) and you'll agree that autumn in Maine's Kennebec Valley will leave you breathless; then get off the roads and take the adventue further. Spend some time paddling the Maine Bow Trip up near Jackman or see autumn's glory reflected in the beauty of the Belgrade Lakes. Head out on the trail on foot or by rented ATV to see our vibrant fall foliage up close. You may even spot one of our most famous residents, the Maine moose, along the way during this the best time of year to see them with a huge spread of antlers (but give them plenty of space please).
NOVEMBER: A season of traditions. The traditions of autumn tend to take over this time of year. The fall foliage gives way to the hunt or some well deserved time spent with friends and family. Get a head start on annual gift giving too by shopping at the many art and craft festivals offering the best Maine Made artisan foods, gifts, and crafts available.
DECEMBER: The holidays are in full display. Put time in your holiday calendar to visit the riverside towns along the Kennebec River. From Gardiner to Waterville you can discover the charms shared by each of these towns every Christmas season. From bright and colorful holiday parades and town tree lightings to festivals of trees and the thrill of sharing secrets with Santa in Kringleville, we have got this season covered.
So, as we say, make plans to go your own way in Maine's Kennebec Valley.