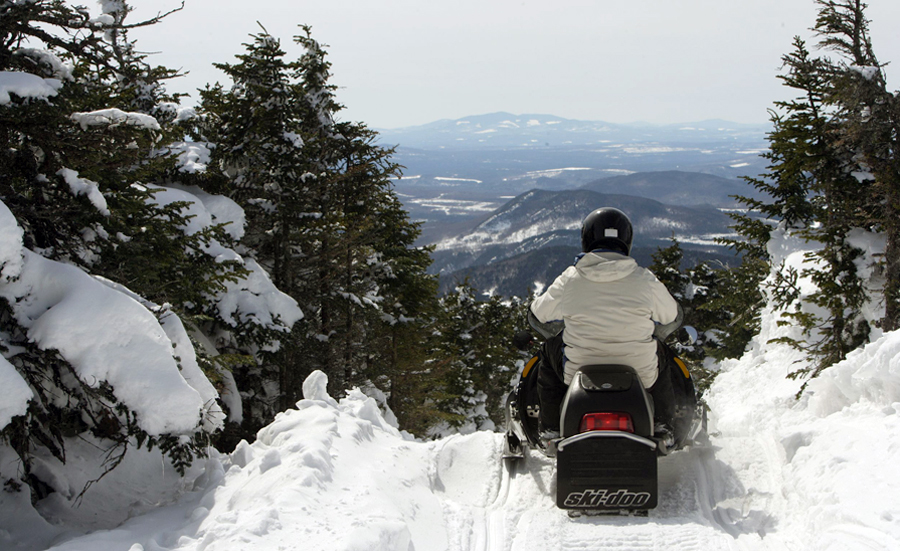 x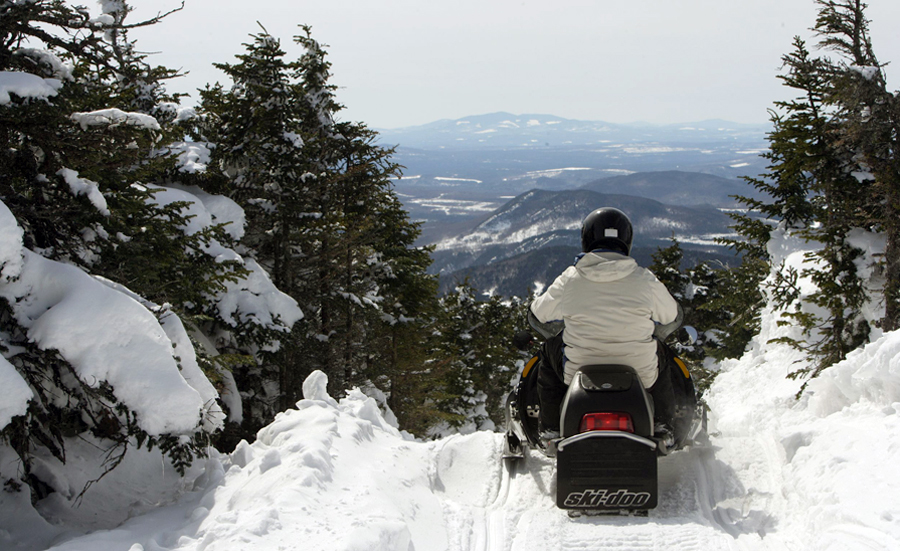 2018-10-30
A Snowmobiler's Paradise
When it comes to snowmobiling, it's really, really hard to beat Maine: big mountains, endless terrain, an Interconnected Trail System (ITS) of 14,000 miles of trails, ideal midway lunch spots at sporting camps, lodges and town pubs, and consistent annual snowfall (10 feet from December to April). And The Kennebec Valley epitomizes the fantastic sledding and phenomenal scenery that Maine's North Woods has to offer. Truth be told (check out the map and trail selection here), we're right at the epicenter of some of the best snowmobiling in the Northeast, mid-way between Rangeley to the west and Greenville to the east with miles of top-notch, uncrowded riding - "You can get there from here."
For example, ride to the frozen icescape of Grand Falls on the Dead River and then continue on to climb up Mount Coburn (3,750′) for a panoramic view of the entire area. It's the highest groomed ITS trail in Maine and well worth a visit. Follow that up with a trip to Parlin Pond and the Lake Parlin Lodge, a popular lunch stop for sledders. After lunch keep heading north to the snowmobiling mecca of Jackman sometimes referred to as "The Switzerland of Maine" for it's magnificent vistas. Or cruise over to Rockwood on the shores of beautiful Moosehead Lake, with its quaint shops, local restaurants, and friendly people.
From the Kennebec Valley, you can explore miles and miles of trails without ever backtracking or looping over your own tracks. We also have easy access to an extensive array of loop trails that ensure you never see the same path twice. The loop trails range from beginner to experienced so there's something everyone in your group can enjoy. Northern Outdoors, a longtime snowmobile resort based here in the Kennebec Valley, has compiled a list of their favorites area rides for you, as well as a downloadable map for your planning pleasure. Check it out here.
BUT don't take our word for it, read what Mike Carr had to say about his experiences riding in the Kennebec Valley in his story for American Snowmobiler.
"This was my first visit to Maine and I'm already hoping to return. The state boasts more than 14,000 miles of trail. In the central and northern portion of the state, the snow comes early and often, making Maine a prime snowmobiling venue from December through March." - Mike Carr , American Snowmobiler
Article courtesy of Northern Outdoors