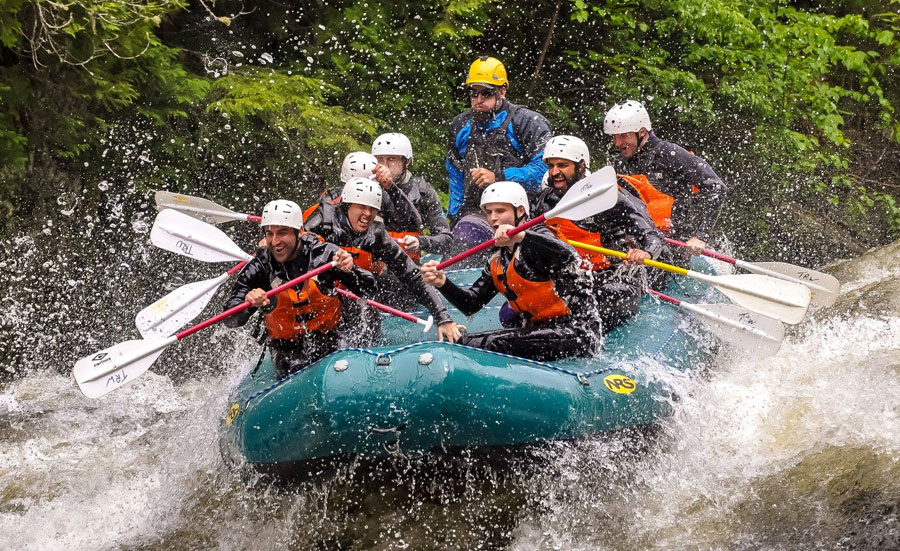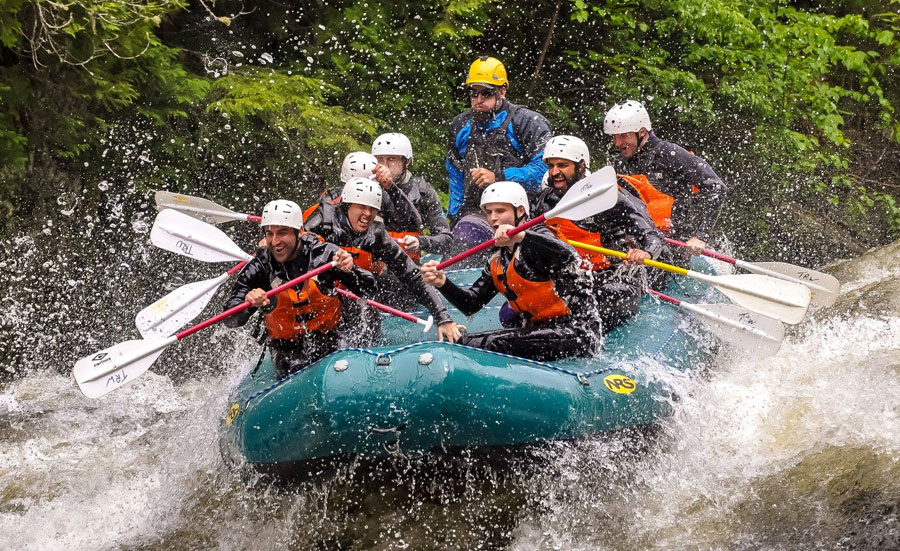 2019-09-01
Action is the Name of the Game!
As the last snow melts and feeds our Maine waterways, you're going to want to hightail it to the Upper Kennebec Valley Region and get ready to ride some seriously huge whitewater, with thrilling class 3 and class 4 rapids. The unmatched scenery and rapids make the Dead River one of New England's premier whitewater runs.
Special release whitewater rafting trips are, fast, furious and just plain fun!
The Dead River offers four very special spring high volume dam releases that produce big whitewater action, and at 16 miles, has the largest section of continuous whitewater in the Northeast. The river bed drops steadily throughout the entire run and the rapids just get bigger and better as the ride goes on—through dozens of rapids, such as "Humpty Dumpty"," Elephant Rock", "Spencer Rips" and culminates in the longest rapid in the Northeast, class IV "Poplar Hill Falls", delivering on its own, a mile of whitewater with huge standing waves and deep drops.
Registered Maine Guides pride themselves on their knowledge of the many rapids and play spots along the river. So any Dead River trip should be led by a licensed skilled guide. Most also offer all river gear, delicious meals and even video or pictures of your whitewater rafting adventure.
Make a plan for your time on and off the water in The Forks.
The Forks Area is home to many whitewater rafting outfitters, offering a wide variety of adventure trips, special package deals and a range of amenities. Lodging options range from full-service resorts and sporting camps to lakeside cabins, inns, and campgrounds. Round-out your experience at one of several restaurants, pubs, and fine dining establishments. Everything you need for a superior Maine vacation that exceeds your highest expectations right here in Kennebec Valley.
Dead River Spring Release Schedule
Dead River high water release dates are highly coveted and fill up very quickly, so gather your friends and family to make your reservations early.
May 12th–7000 cfs*
May 19th–7000 cfs
May 27th, Memorial Day Weekend–5500 cfs
June 2nd–5000 cfs
Blog courtesy of Pam Christopher of [The Forks Chamber of Commerce](Blog courtesy of Pam Christopher of The Forks Chamber of Commerce)
Visitor Resources:
Kennebec and Dead River Whitewater Release Dates | The Forks Area
*cubic feet per second