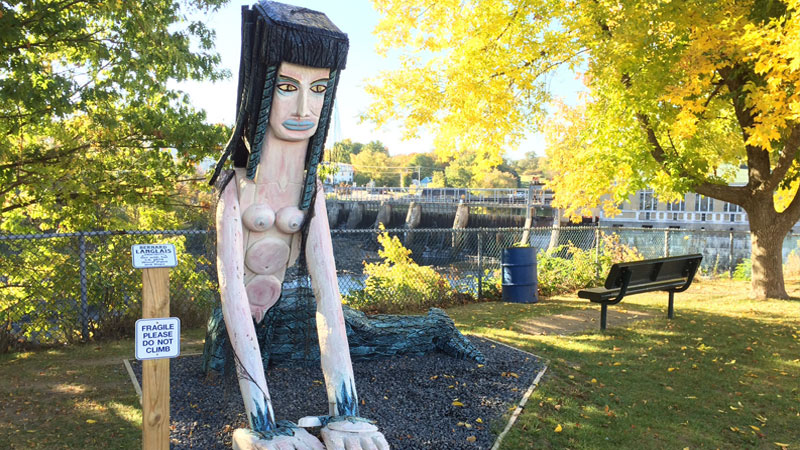 Photo Credit: Visit Skowhegan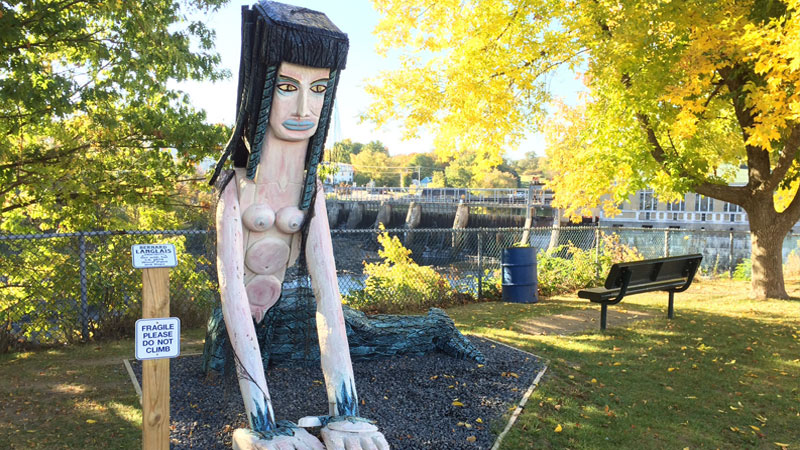 2018-09-11
Fall Sculpture Tour
Art and nature lovers buckle-up and prepare yourselves for a vibrantly colored autumn sculpture tour through the heart of Maine's Kennebec Valley in four movements. Three charming, diverse towns serve up the beauty of autumn along with the experience of sculpture (al fresco, of course) in concert with the crescendo of a sun-dappled cruise along America's most beloved and inspiring autumn foliage road trips.
Movement 1: Augusta's Viles Arboretum No ordinary stroll. This half-mile trail is dotted with the most extensive permanent outdoor sculpture collection in Maine.
Movement 2: Ever Eclectic Waterville Always creative, Waterville is home to a wild and beautiful art collection that reflects the history and diversity of its artistic residents. In the concourse, it is impossible to miss the glistening steel of the kinetic Ticonic, a 1997 work by R. Majorowicz. Head to the library for 2013's Oh Courant! Mosaic, and visit the Lebanese Heritage Mural at 51 Main Street. Then, stroll among towering oaks of Colby's campus to find Sol LeWitt's iconic Seven Walls. Nearby at the entry of the celebrated Colby College Museum of Art is Richard Sera's 4-5-6, the massive yet warmly-colored work of an American Master.
Movement 3: Skowhegan Rising Skowhegan's well-loved Indian donated by Bernard "Blackie" Langlais has gained much attention and now some new friends. Langlais Park (at the foot of the towering sculpture) opened after the sculpture's restoration was completed and with it came the Playground Group. Nearby is the Seated Woman and Falling Woman. Renaissance Passage holds the Jungle Animal Relief. At the pedestrian bridge sits Girl with Tail the only artist named piece in the downtown. One more large and rather tall outdoor sculpture called Basketball Player stands at the Skowhegan Community Center about 1.5m from Water Street on Rt.2.
Movement 4: Along the Kennebec to the Mountains The feast for the eyes expands to a beautiful conclusion not with sculpture, but with the elevating undulations of the Old Canada Road National Scenic Byway as it climbs into the mountains. Take a breathtaking pause at Robbins Hill and birch-lined Lake Wyman. Autumn's palette you will raise your hopes of spotting an eagle in flight, a red fox on the hunt or perhaps even our designated ambassador, the Maine moose.
Coda: Langlais Sculpture This tour focused on outdoor sculpture, spans throughout the region from Gardiner to Solon, from China to Starks and with a particular concentration on the Waterville and Skowhegan areas (Skowhegan has a total of 25 indoor and outdoor works). The Kennebec Valley is deeply grateful to the Kohler Foundation for allowing us to share the work of this talented Maine sculptor, and local son, with the world.
Visitor Resources: Visit Skowhegan | Old Canada Road Scenic Byway | Waterville Creates | Colby College Museum of Art | Viles Arboretum