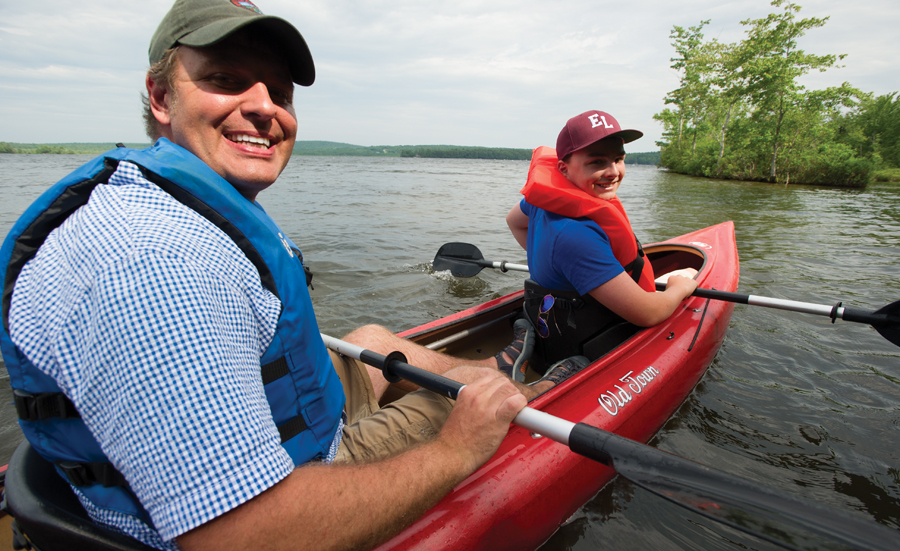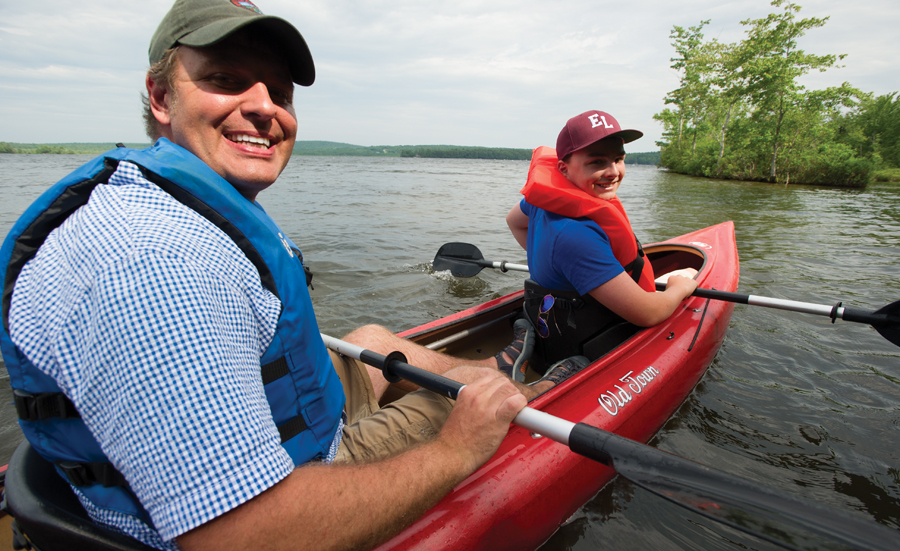 2017-09-13
Paddling in the Kennebec Valley
Maine is thought of as a state full of trees and forests but with 2,500 lakes and ponds and 5,000 rivers and streams there is plenty of water to play in. The Kennebec Valley is lucky to have some of the best of both and every vacation should include some time on the water.
Canoes and kayaks are the preferred way to enjoy the awesome scenery and wildlife while whitewater rafting and speedboats are the choice of the thrill seekers. All are available to rent in the Kennebec Valley from Jackman and Rockwood, Skowhegan and Belgrade. You can also purchase canoes and kayaks at many locations in the area. Kayaks have the advantage of being reasonably priced ($275 and up) and easy to transport. With just a few safety lessons, a paddle and life jacket you will be on your way to exploring the wonder of being on the water in the Kennebec Valley.
If you are looking for a paddling adventure but not sure you want to head out on your own, hire a Maine Guide to show you the sights, provide the gear and generally take the hassle out of such an adventure. All you have to do is show up with a desire to have fun!
There are many places to "put in" to get on the water. If you are just starting out and want to stay within sight of others pick one of our many lakes. Many have great boat launches which will simplify your entry and exit from your kayak. Good ones to start at are Messalonskee Lake in Belgrade, Wesserunsett Lake in Madison, Lake George Regional Park in Canaan, and Great Moose Lake in Hartland. These are also great fishing spots so why not bring a fishing rod along? A picnic lunch and a camera for capturing that perfect shot of a loon or eagle complete your gear list.
For those looking to venture into rivers and streams there are plenty of options for you too in the Kennebec Valley. Cobboseecontee Stream in Manchester winds through 8 miles of small ponds with class I-II rapids. There is a portage (meaning you have to carry your canoe or kayak) around one dam. In Skowhegan the mighty Kennebec River offers a tamer paddle than it does further north in The Forks and there is a great boat launch on Rt 2 in Skowhegan. Also on Rt 2 but further east in Canaan is Sibley Pond. The Canaan Bog, which is the south end of Sibley Pond is a quiet paddle offering solitude and an away from it all feeling. There are many beaver huts, birds, and more around every turn of this winding paddle.
So book a cabin to complete your outdoor adventure, load up the canoes and kayaks and pick one of the many maps to get your Kennebec Valley paddling adventure going. Look for the little boat symbol on the map which indicates a public boat launch and begin exploring!
Article courtesy of Silverton Sporting Ranch