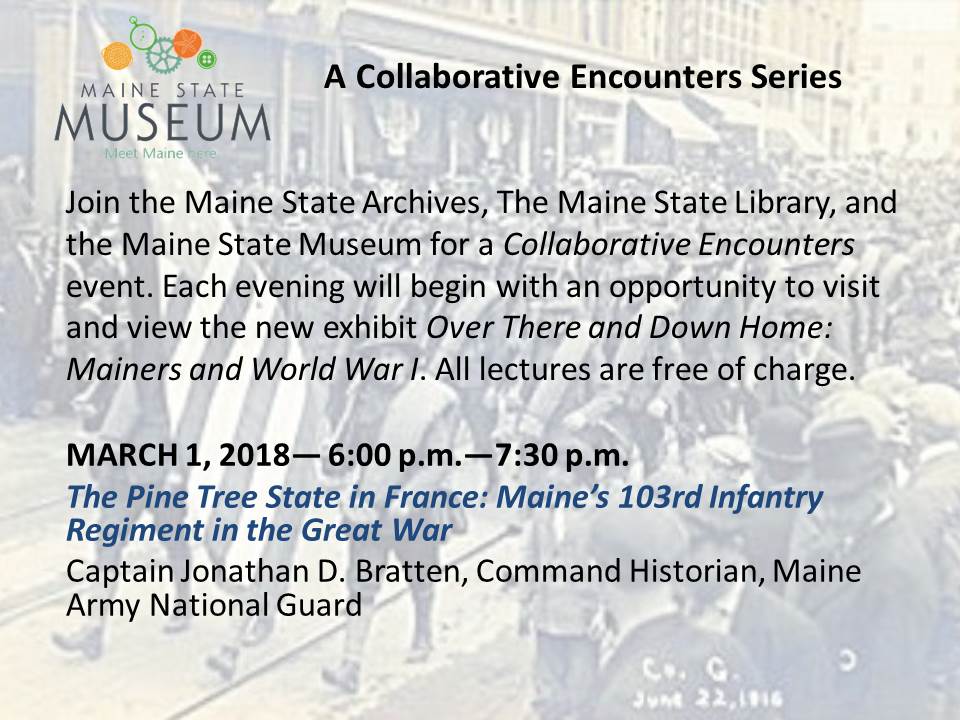 Join the Maine State Archives, The Maine State Library, and the Maine State Museum for a Collaborative Encounters event. Each evening will begin with an opportunity to visit and view the new exhibit Over There and Down Home: Mainers and World War I. All lectures are free of charge.
MARCH 1, 2018— 6:00 p.m.—7:30 p.m.
The Pine Tree State in France: Maine's 103rd Infantry Regiment in the Great War
Captain Jonathan D. Bratten, Command Historian, Maine Army National Guard
MARCH 15, 2018 — 6:00 p.m.—7:30 p.m.
WWI Open House; View Exhibits & Special Collections at the Maine State Museum Archives, & Library
MARCH 29, 2018 — 6:00 p.m. — 7:30 p.m.
The WWI Dye Shortage: Color, Clothes, Chemistry
Jacqueline Field, Author
APRIL 12, 2018 — 6:00 p.m.—7:30 p.m.
Maine and World War I (including a Book Signing with the authors)
Jason Libby & Earle Shettleworth, Authors
For Questions about Collaborative Encounters Programming, please contact 207.287.2301