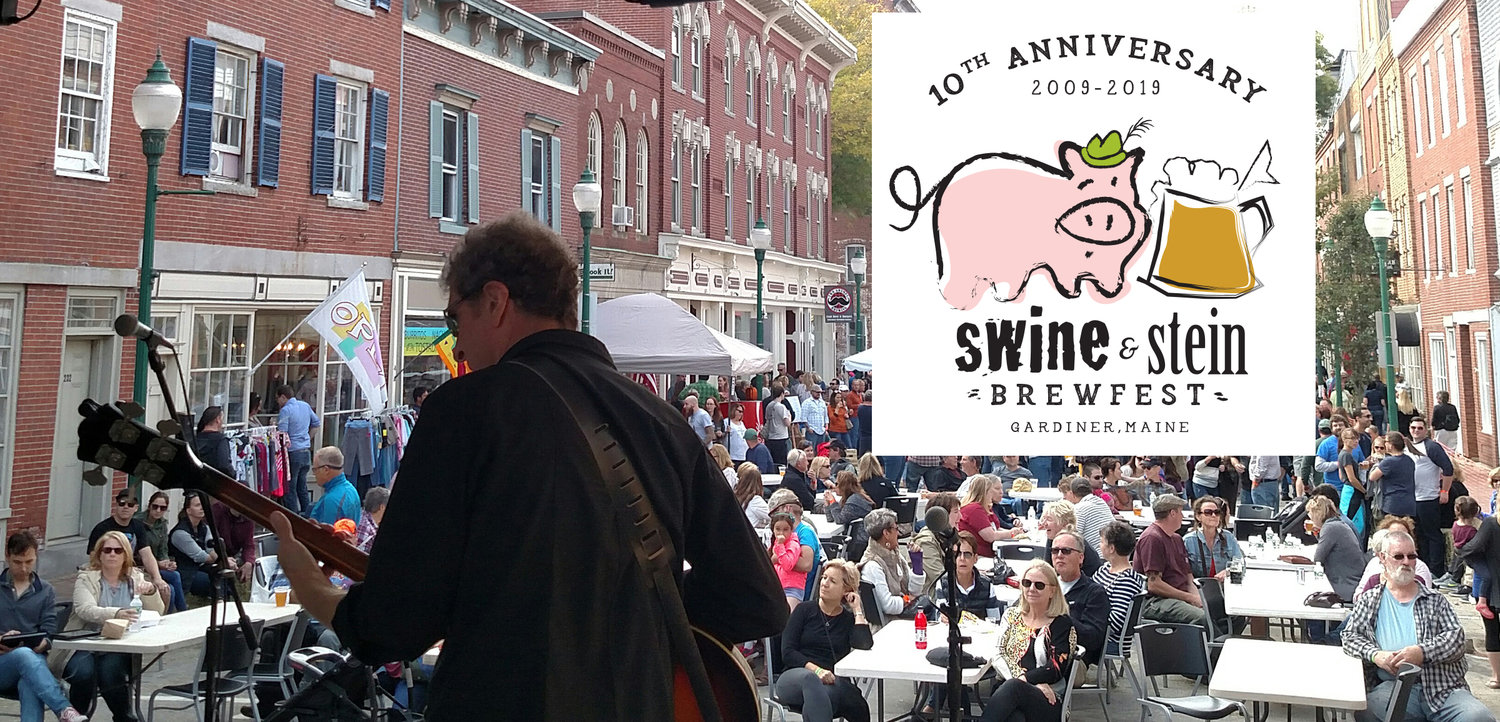 Enjoy a full line up of great music, tasty food vendors and entertainment all day long.
With over three times more taps available at the event, you'll enjoy brews and blends not found at the store, for a true handcrafted, small batch experience. Swine and Stein Brewfest now includes wines from Cellardoor Winery along with Chadwick's maple craft spirits and the award winning rums from Sebago Lake Distillery. Enjoy local favorites like Cushnoc, the Liberal Cup, Two Gramps and Gardiner's new Bateau Brewing, as well as brewers from across the state from Bangor Beer Company to Tumbledown Brewing as they pour their best brews. Taste the day away with all day sampling - no beer tickets needed! General admission begins at 12:30pm, or come early for the exclusive VIP tasting hour at 11:30.
11:30am - 12:30pm VIP Exclusive Tasting Hour Less crowds, more beer! Get early access to 18 of Maine's best breweries, wineries and distilleries to make sure you'll get a chance to sample all of your favorites. VIP tickets are $50 through October 11th and $55 the day of the event.
12:00pm - 1:30pm Calypso Soldiers The Calypso Soldiers are a dynamic 5-piece band, that uses it's blend of modern and classic rock, funk, country, and blues to bring in an exciting, good time. Covering a broad range of artists from all genres of music, as well as showcasing their own diverse and unique original material.
12:30pm General Admission Begins Unlimited all-day samples of beer, wine, rum and whiskey, live bands, quirky games, and delicious pork from our food trucks and restaurants as well as other dishes. General admission tickets are $30 through October 11th and $35 the day of the event.
1:30pm 6th Annual Beard & Mustache Competition Prepare for "Growvember" by walking away with the ULTIMATE Swine&Stein Beard and Mustache Competition title: BEST IN SHOW! Registration is at Monkitree (263 Water Street) 11:30am-1:00pm with the judging at 1:30pm in front of the stage. Awards announced at 2pm. Participant or spectator - you don't want to miss this!
1:45pm Frozen T-Shirt Race Are you up for a serious challenge? Sign up at the Info tent for the Frozen T-Shirt Race - only 5 spots available! Thaw a frozen t-shirt and put in on to win the race! FYI: spectators have just about as much fun!
2:00pm - 3:30pm Emilia Dahlin Wielding a voice that defies the size of her body and strong storytelling sensibilities, Emilia Dahlin has carved out her name as a unique songstress. She weaves mesmerizing tales (complete with Greek myths, robotic messiahs, epic floods, and tax evaders) with raw, rootsy folk and dynamic jazz vocals. Her sky-rocketing energy is delivered with honesty.
2:00pm Sausage Making Demo in Johnson Hall An event favorite! Emery's Meat & Produce brings an entertaining and unique DIY to show you everything you need to know about making your own sausage at home. Sausages made at the event will be grilled up after the event for free samples for all who participate.
3:00pm - 3:30pm Maine State Rock, Paper, Scissors Championship Put your game face on and let that competitive tiger within out for the Maine State Rock Paper Scissors Championship! Sign up at the Info Tent after you're through the gate for your chance to compete in this intellectual, challenging, athletic endeavor!
4:00pm - 5:30pm Pete Kilpatrick Band Blending folk, pop, and contemporary rock, the Pete Kilpatrick Band has toured up and down the east coast, performing in shows alongside Dave Matthews Band, Jason Mraz, Pearl Jam lead guitarist Mike Mccready, Ray Lamontagne, Blues Traveler frontman John Popper, Guster and many others.
ALL DAY LONG Food Vendors Retail Shopping Giant Jenga Corn Hole Local Restaurants Giant Pass The Pigs!
FOOD VENDORS: Salty Dog BBQ: Pulled Pork, Brisket, Pulled Chicken, Ribs, Handhelds, Hand cut fries, homemade Mac & Cheese, coleslaw etc.
Papa's Roadhouse: Kielbasa, pork belly cheese burgers, Banh Mi sandwiches, Lobster rolls, Lobster grill cheese, pork belly lobster rolls, grill cheese, pork belly Dogs, Pork curry. Donut holes with caramel and bacon
Ye Olde English Fish n' Chips: Pork Sausage Rolls and Scotch Pork Eggs, English fish & chips, lobster rolls, fried clams, fried scallops, clam & crab cakes, homemade chicken fingers, homemade onion rings, corn dogs.
Pinky D's Poutine Truck: 8 different types of poutine!
Knead Bakery: Bavarian Style Soft Pretzels
Scrummy Afters Candy Shop: Designer chocolates, candy & novelty items