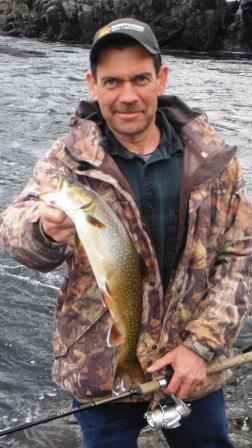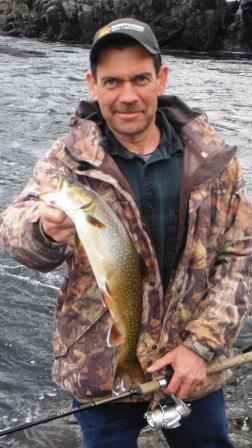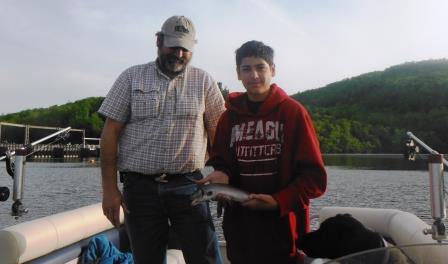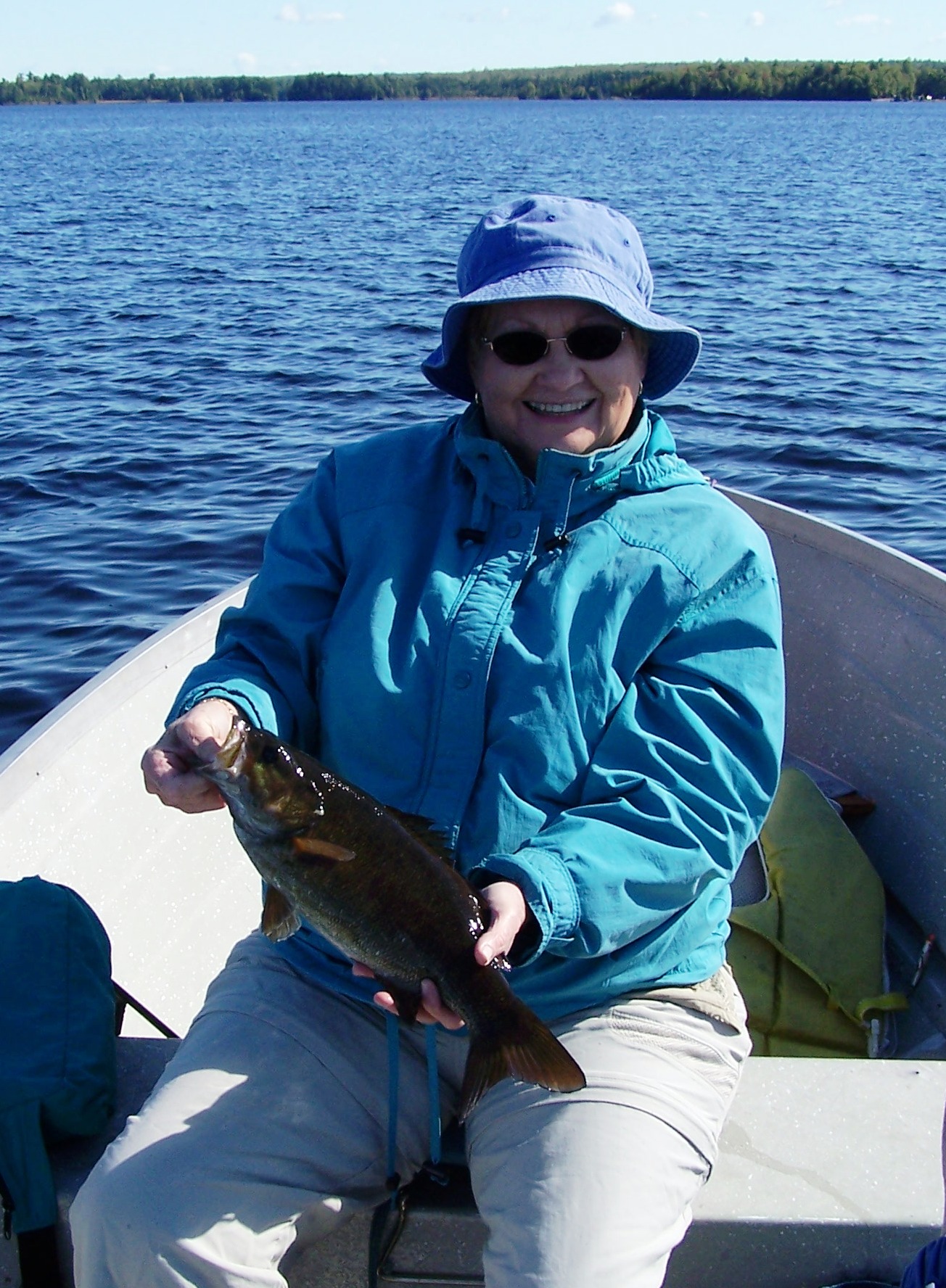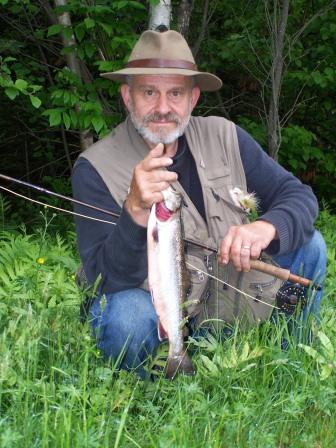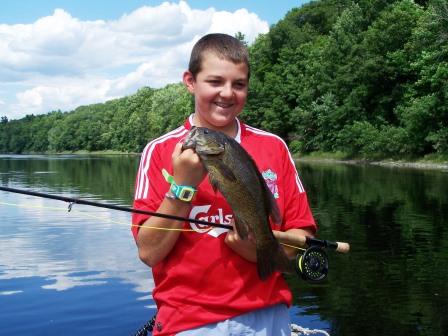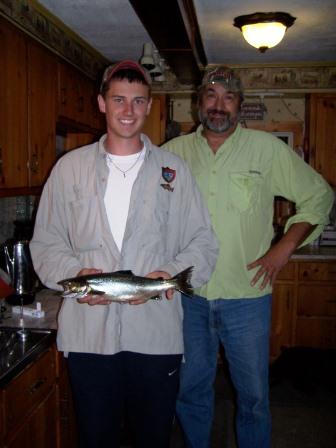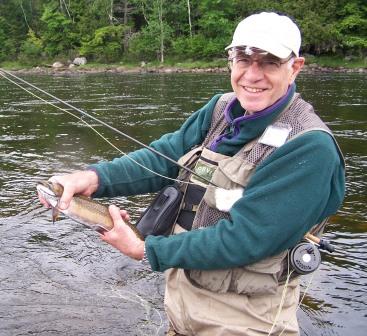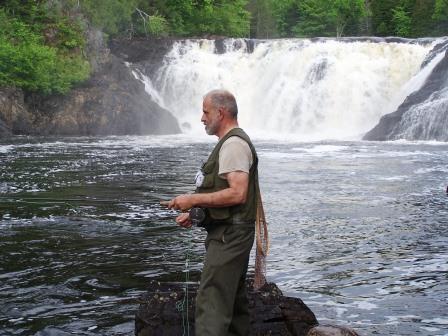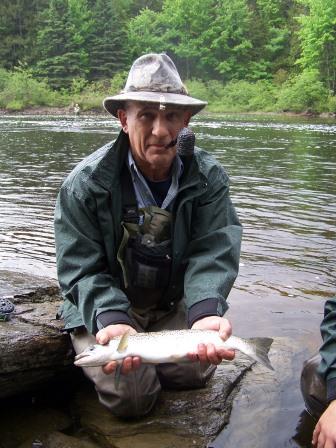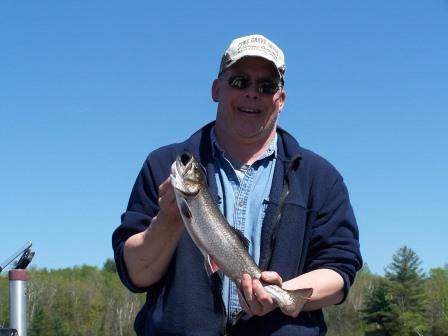 Bob Howe, owner, has been a Master Maine Guide for 39 years. He has taught many people to fly fish, and has written in many national magazines about catching trophy brook trout and Northern pike. He's been featured in Warm Water Fly Fishing magazine and Northwoods Sporting Journal, and on television shows such as Northeast Journal and the Maine Outdoorsman. Bob has tremendous knowledge of Maine's fish and wildlife and loves to teach others all he can. Your experience with him on the water is not only of catching fish, but of learning about fish habitat, bug life, reading the water, local history, and so much more!
Drift Boat Trips: Let Bob guide you down the famous Kennebec River in Bingham, Maine, featured in Fly Fishing Magazine recently as one of the best fisheries in the eastern US! Choose a full day with lunch included, or an evening float capturing the best time of day in a fabulous fishery! A drift boat is a great way to fish this section of the Kennebec, quietly gliding over lies and pools where the native trout are waiting. $400/$225 for 1 or 2 people
Fly Fishing Lessons: Bob has been teaching people to fly fish for many years. Your day begins here at Pine Grove Lodge at 1:00pm with discussion and learning basic terminology, knots, fly identification, and other important skills. You will watch an instructional video with Bob as you discuss what is being shown. He will then take you outside for some practice as you are video-taped so you can see yourself in action, followed by more discussion and learning. After a delicious, home-cooked dinner, you will go to the river for some hands on experience and put your new skills to work until dark, around 8:30 or so. This entire day of fly fishing lesson and education, including the dinner, is reasonably priced at $350 for 1 or 2 people. Call for reservation and answers to any questions.
Pontoon Boat Fishing: This is the most comfortable, relaxing way to fish from a boat! We have many species here in Maine to fish for, including brook trout, lake trout, brown trout, splake, northern pike, bass, perch, and landlocked salmon! We will cast lures or troll, depending on season so we can do whatever will provide optimum chance at catching fish. Our boat is wheelchair accessible, and we have a private potty on board. Full day includes lunch. You are also welcome to bring you favorite drinks or snacks. $350/$250 (1 or 2 people)