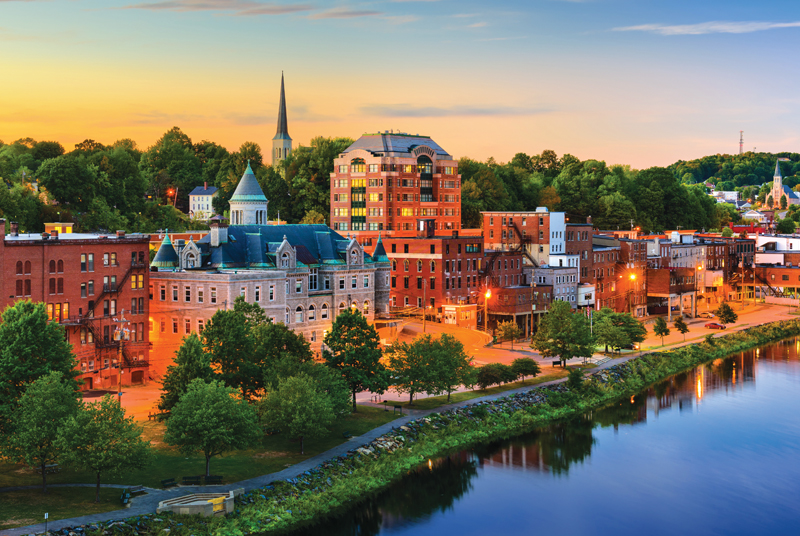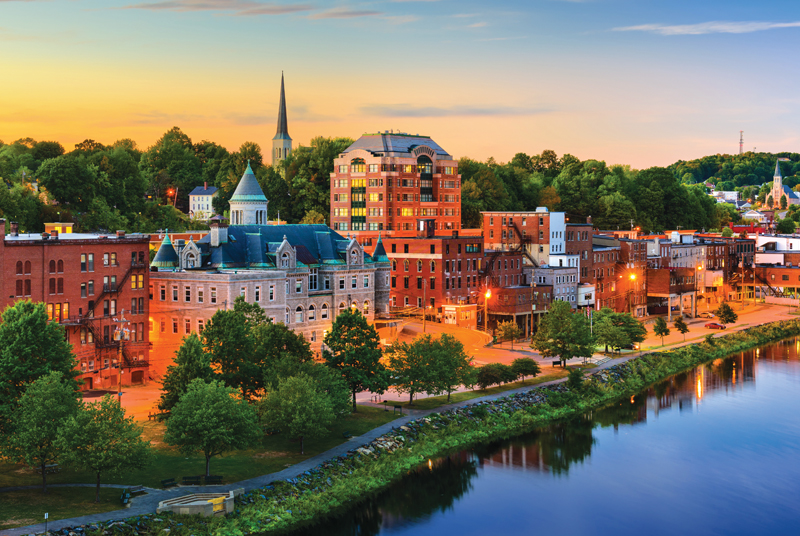 Augusta
The Capital City is a must on your next visit.
In addition to being Maine's capital, Augusta is one of the more lovely and under-explored cities in Maine. Spend time at the Capitol Complex, visit the Maine State Museum, cross over the Kennebec for an afternoon of living history at Old Fort Western, maybe shop the day away at the Marketplace at Augusta. Grab a meal or do some window shopping on Water Street.
Downtown on Water Street
The beating heart of Maine's capital city, set along a historic stretch of Water Street just a short walk from the capital and across the bridge from Old Fort Western, Downtown Augusta seems
to have hit its stride offering visitors places to eat and drink, like Circa 1885 and Otto's, as well as the exciting Cushnoc Brewing Company. Come for city events or the weekly Farmer's Market in Mill Park at the end of Water Street, one of the best around.
The Capitol Complex
There is no getting around in Augusta without spotting the recently replaced copper dome of the state Capitol. Spend a little time getting the grand tour, or skip it and simply relax and enjoy downtime in Augusta's Capitol Park, the public garden directly across the street from the Capitol complex. The broad, grassy park is also home to the Maine Vietnam Veterans Memorial.
Maine State Museum
The Maine State Museum is another of the city's delightful and surprising attractions. Inside you will spot the Lion, one of the nation's oldest steam engines. Explore 12,000 years of Maine's history, or tour the museum's prize exhibit—a spectacular three-story water-powered woodworking mill that was taken apart and re-assembled inside the museum.
The Arboretum
Crossing the Kennebec takes you to the Viles Arboretum, a vibrant showcase offering a refreshing selection of walking trails on 225 acres. The arboretum is home to a well-curated American Chestnut collection and the renowned hosta garden. Look up the regularly scheduled artist programs, like the annual Sculpture Symposium. The location is also one of Maine's top in-town birding locales, with more than 39 documented species.
Active in Augusta
The entire Kennebec Valley is crisscrossed with trails, but Augusta is lucky enough to be home to some of the best maintained, and easily accessible trails around. One of these, Bond Brook Park, is Augusta's must-visit spot. Amazingly, many area residents are unaware that this park exists. But Bond Brook has a growing reputation and the potential to become a world-class trail-sports venue that supports Nordic skiing, mountain-biking, trail-running, and hiking.
With its deep connection to American history, a happening downtown, one of the state's finest museums, and a growing reputation as a foodie destination, no visit to the Kennebec Valley could be complete without spending time in the capital area.
Learn more: KennebecValleyChamber.com
---