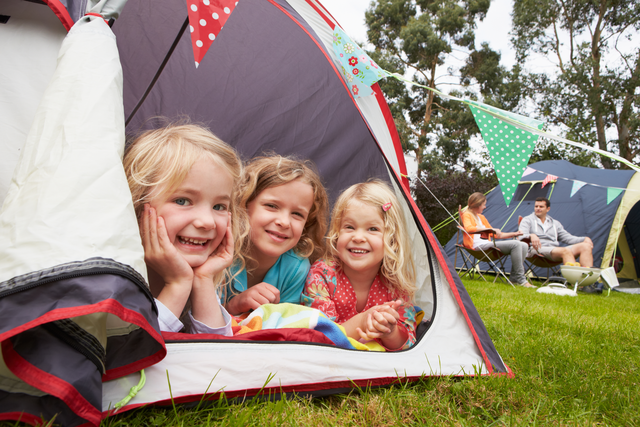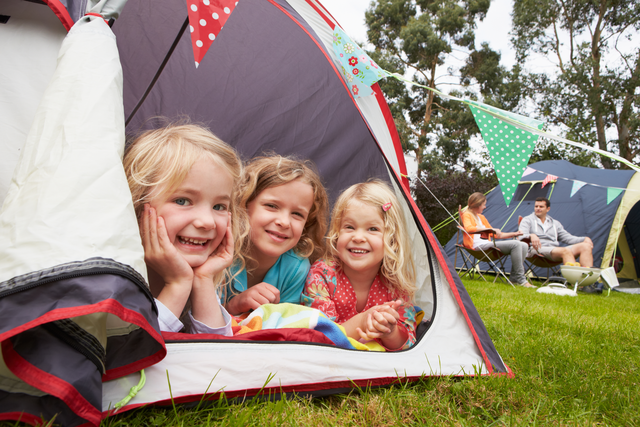 Family Camping: Where to Go
There's no place to take the whole family camping quite like Maine's Kennebec Valley. You'll find family-friendly camper "resorts," RV parks, cabins to call home, and everything in between. Adventure is always around the corner. The lakes, forests, and wildlife in our region make camping here an experience to remember. The perfect family activity, or buddy trip, camping in the Kennebec Valley is always sure to be a good time.
A few of the many campgrounds in and around the Kennebec Valley:
Augusta-West Resort 183 Holmes Brook Lane, Winthrop, Maine 04364 Tel: (207) 377-9993 Open May 15 through September 30. Augusta-West offers premium RV hook-ups as well as authentic campsites throughout its 65 acres of lakefront property. It prides itself on being "remote enough to be a welcome break from urban life, but close enough to enjoy any weekend."
Beaver Brook Campground 1 Wilson Pond Road, North Monmouth, Maine 04265 Tel: (207) 933-2108 Open May 12 through Columbus Day. Beaver Brook fronts Androscoggin Lake and offers over 150 acres of the best nature Maine has to offer. There are a number of planned recreational activities on site and the grounds are roughly half an hour from the State Capitol in Augusta.
Birches Lakeside Campground 201 Norris Point Road, Litchfield, Maine 04350 Tel: (207) 268-4330 Open May 1 through Columbus Day. Birches Lakeside features cabins, classic campsites, and even an on-site restaurant. Campers can also enjoy recreational activities organized by the staff, as well as assistance bass fishing.
The Evergreens Campground & Restaurant 202 Ferry Street, Solon, Maine 04979 Tel: (207) 643-2324 Open May through December. Evergreens is nestled in a forest of Birch, Pine, and Oak trees along the beautiful Kennebec River. Campers can swim, canoe, hunt, or fish. Lodging options include traditional campsites or updated cabins.
Green Valley Campground 1248 Cross Hill Road, Vassalboro, Maine 04989 Tel: (207) 923-3000 Open May 1 through September 30. Green Valley is near the gorgeous Webber Lake, so campers with their own boats can use the dock space provided and those without are welcome to rent a boat, canoe, paddleboat, or outboard. Pets are welcomed at Green Valley.
Indian Pond Campground 1675 Indian Pond Road, The Forks, Maine 04985 Tel: (800) 371-7774 Open April 15 through October 15 Indian Pond is peaceful and secluded, making it the perfect getaway spot for hunters, fishers, and families.
Jackman Landing Campground 582 Main Street, Jackman, Maine 04945 Tel: (207) 668-3301 Open year round. The Jackman Landing Campground has sixteen RV sites with electricity and water available as well as nine tent sites. There is also a laundromat onsite, as well as canoe rentals and floatplane rides.
The Last Resort Cabins & Campground 11 Last Resort Lane, Jackman, Maine 04945 Tel: (207) 668-5091 Open May 9 through November 22. The Last Resort has been a prime vacation spot since 1902! It's proud of its wilderness atmosphere, making it perfect for those who really want to disconnect. The 70 acres of the camp are filled with spruce, cedar, pine, and birch trees and offer eight log cabins and 4 campsites.
More to Life Family Campground 48 Lady Slipper Lane, Winthrop Maine 04364 Tel: (207) 395-4908 Open May 15 through October 15. More to Life is a family-oriented religious campground that offers traditional wilderness activities like camping, fishing, hiking, and swimming, as well as fun alternatives like arts and crafts, scavenger hunts, church services, and more.
Northern Outdoors Adventure Resort 771 Route 201, The Forks, Maine 04985 Tel: (800) 765-7238 Open year round. Northern Outdoors is an adventure resort most famous for its winter activities. From your cabin doorstep, you can access over 1,000 miles of groomed snowmobile trails. In the summer, you can rent an ATV to take on the same trails or go white water rafting.
Two Rivers Campground
327 Canaan Road., Skowhegan, Maine 04976 Tel: (207) 474-6482 Open May 15 through October 15. Two Rivers Campground is on the banks of the Kennebec River and Wesserunsett Stream with room for any size camper or motorhome, with up to a 50-amp service. There is a store onsite for snacks and toiletries, as well as free showers, free Wi-Fi, and free cable.
Yogi Bear's Jellystone Park- Yonderhill 221 Lakewood Road, Skowhegan, Maine 004950 Tel: (207) 474-7353 Open May 15 through October 15. Jellystone Park is a family owned and operated campsite that sits on 35 acres of densely wooded land. Because of this, each campsite feels more private and secure. Campers can pitch a tent, bring an RV, or rent a fully furnished travel trailer or cabin.
Visitor Resources: CampMaine
---