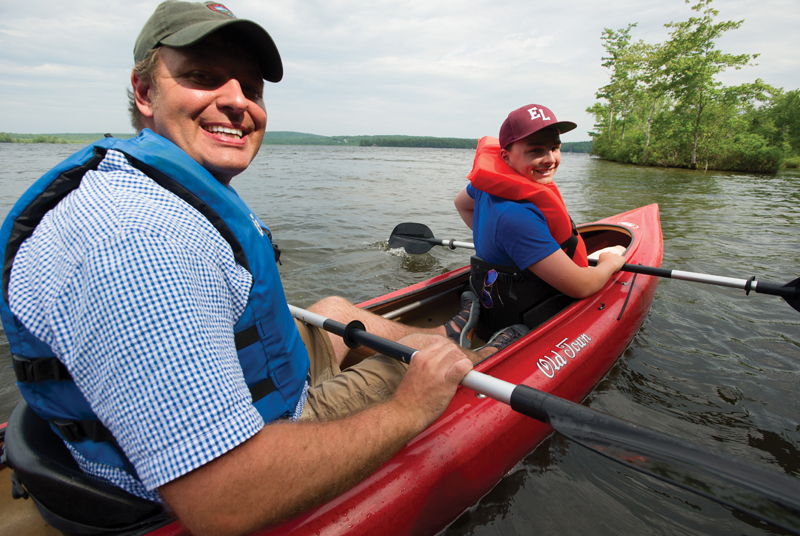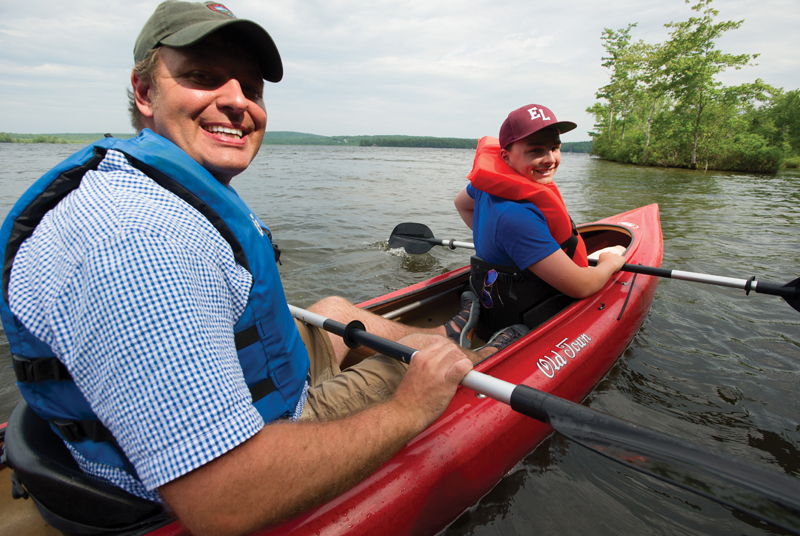 Canoeing & Kayaking
Paddling is an escape, the ideal but temporary disconnect from our world's manic pace. Being on the water allows you to simply go with the flow. Life from this vantage point is great for spotting wildlife and birds. Adding some remote paddling to autumn foliage tours makes for an unforgettable trip.
While we offer countless locations for excellent paddling in the Kennebec Valley, we've highlighted a few inspiring trips to get you on your way to planning your next paddling adventure.
Flagstaff Lake: A large shallow, man-made lake set beneath the commanding presence of the Bigleow Range and just to the north of the Appalachian Trail, Flagstaff makes for a great one-day family paddling excursion, or a longer multi-day exploration when you combine the lake with the 12-mile excursion along the Dead River to Grand Falls. Put in at Long Falls Dam.
The Moose River Bow Trip: One of the most famed paddling trips in Maine is the Moose River Bow Trip. Spectacular scenery and great fishing make this a truly enjoyable trip for all paddlers. The 2- to 5-day wilderness paddle begins on Attean Pond, hooks to the Moose River, then goes back around to where you began—with only one portage. Add a quick hike to the top of Sally Mountain to see all of Attean Pond before you.
The Belgrade Lakes: Easy to get to, and even easier to enjoy, the Belgrade Lakes have all the makings of a classic Maine paddling trip. Using Belgrade Village as your base, try either Great or Long Pond to explore many coves and islands. Hike the hills at the north end of the area for a panoramic view. Tour the south end of Messalonskee Lake for birding and don't miss the Antique Boat Parade held here each Independence Day.
The Kennebec River: The river slows its pace as it widens to the south. Skip packing a lunch and grab something tasty along the way in Augusta, Hallowell, or Gardiner. Simply tie up and walk into town. Visit Old Fort Western, spy bald eagles, or watch for massive prehistoric sturgeon as they breach the river's surface.
Other Great Trips
China Lake: West of Augusta the beautiful shoreline and deep blue waters of China Lake make for an excellent day of paddling and a nationally-recognized bass-fishing destination.
Wyman Lake: This large and beautiful lake, easily accessible from Moscow's town dock, extends 15 miles to the north. Visit the Carrying Place Stream and Houston Brook Falls, and explore the islands scattered around the lake.
Northern Forest Canoe Trail: Offers paddlers 347 miles, including some of the Kennebec Valley's iconic experiences: Flagstaff Lake, Dead River, Attean Pond, Big Wood Pond, Moose River, Long Pond, and Brassua Lake.
---