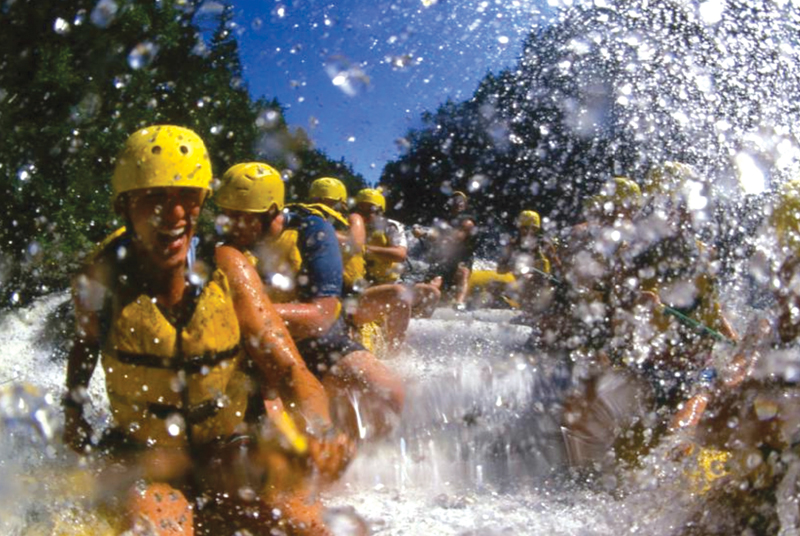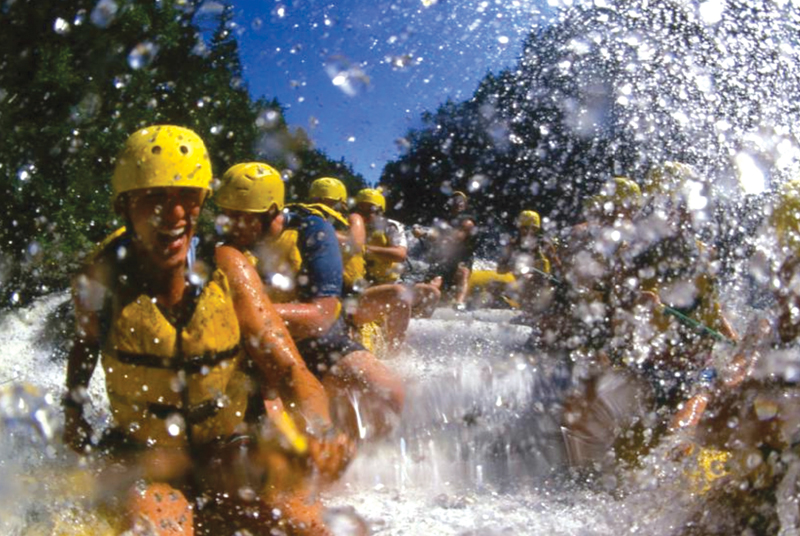 Rafting on the Kennebec and Dead Rivers
With two wildly popular rivers—rides of up to 8,000 cubic feet per second of water—the thrill of rafting here is immeasurable. For more than 40 years the Kennebec Valley has been Maine's favorite whitewater rafting destination. So make a plan to get on the river this season.
Rafting is an original extreme sport. Thrill-seekers should hop aboard an iconic whitewater raft where just a few millimeters of rubber and a shield of bravado stand between you and the millions of gallons of water that wildly churn below.
Down you go and then up again; the raft hurtles up over the brow of a massive wall of white water. Tension mounts and gravity slams you screaming into the foam. With each drop, the boat erupts with delighted howls and laughter. This might just be the perfect welcome to the world of whitewater rafting.
The Kennebec River trip begins upriver on Indian Pond and roars through the Upper Kennebec Gorge with rapids up to Class IV. Along the way, you will pass through thrilling drops, waves, eddies, and holes like The Rock Garden, The Three Sisters, and Big Mama. You'll visit the Goodbye Hole and then pray for your life in The Cathedral Eddy before getting tumbled by Maytag and descending into the Hell Hole.
Up for some more? Round two takes you to the Dead River—the longest stretch of continuous class III-IV whitewater located in the East. Seasoned rafters know this 16-mile trip is loaded with intensity. Right out the gate, you travel through Spencer Rips and the Minefield. A little further down, Humpty-Dumpty will leave you in pieces. You'll have just long enough to pull yourself together before hitting Mile Long Rapids. Be wary of Little and Big Poplar Falls. This ride is no day in the park.
Thanks to the growing thirst for adventure, there are now many rafting companies and guides here, all well-suited for passengers of all ages and skill levels. Some offer convenient day-trips and others provide visitors with access to full-service resort amenities and an unlimited variety of other outdoor experiences.
2020 Whitewater Release Schedule | Find a Whitewater Outfitter
---