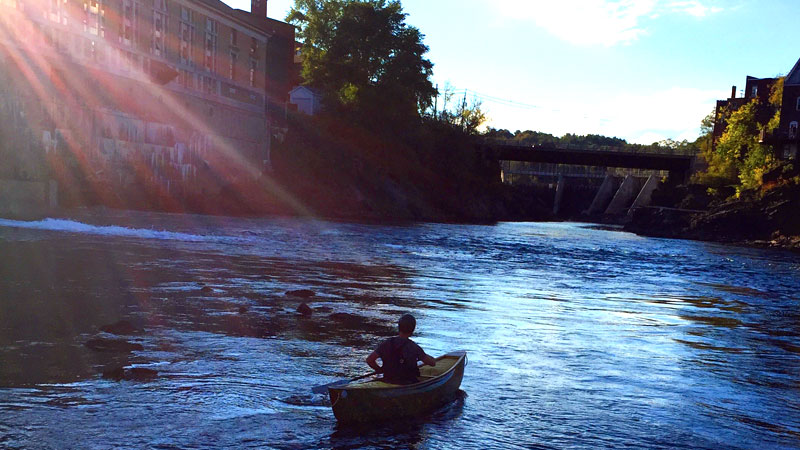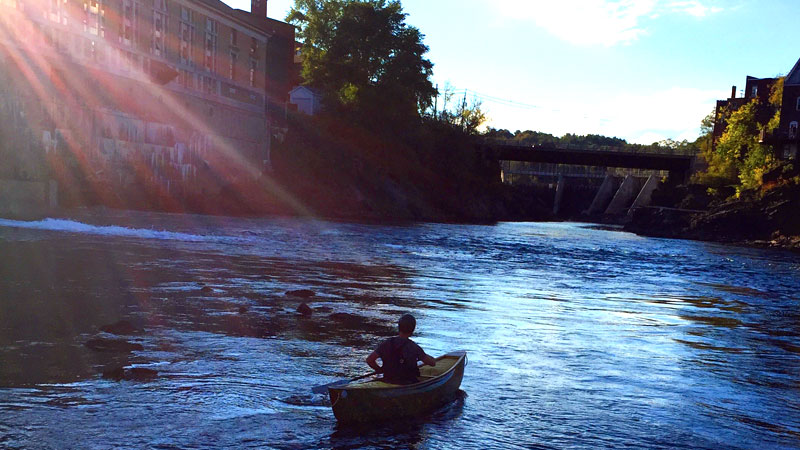 Skowhegan
Year-Round Foodie Events
Starting in March, Skowhegan's annual Maple Festival heralds the (near) end of winter. Yummy! July brings the Kneading Conference and Artisan Bread Fair. Labor Day weekend offers a chance to raise your glass at the Craft Brew Fest, which is guaranteed to be bigger and better than ever. Don't worry if you can't make an event—there will be plenty more chances to jump in.
That's the thing about Skowhegan, it possesses an unrivaled vibe and a boundless energy like the rolling waters of the Kennebec River that cascade into the river gorge. There always seems to be a cool local event on the calendar worth checking out. Join in the fun to see what you've been missing.
Basecamp for Adventure
For the visitor who loves adventure, Skowhegan makes a perfect jumping-off point because a bit further up the valley is the state's best white water rafting. Closer by the waters of the Kennebec River, its tributaries, and the dams along the way, make for excellent kayaking (try the Madison Wave), tubing, as well as some of the finest trout fishing in the state.
Climbers looking to explore a little will find a treasure here. Trail running and biking are found in any direction you go. But the best part? At the end of the day, you can head back to town for a hot meal, some local craft beer at well known places such as Bigelow Brewing Company and Oak Pond Brewing Co., and a welcome slice of civilization. Cheers to that!
Farm-to-Table
The Kennebec Valley has always been known for its fertile soil, and a heritage of farming here goes way back. Today there is a year-round farmers market where customers will find fresh, seasonal produce, naturally raised meats, eggs, local dairy products, baked goods, coffee, maple syrup, honey, soaps and salves, seedlings and cut flowers.
The continued success of the Somerset Grist Mill at Maine Grains and the Miller's Table restaurant have given Skowhegan a certain status that makes it an ideal location for breweries, food-friendly events, restaurants, pubs and, of course, one heck of a tasty bakery.
Along Water Street
As one of the three Main Street Maine communities in the Kennebec Valley, Skowhegan has been recognized for its very walkable downtown area, filled with small cafés, shops, and businesses. It's all set in a backdrop of beautiful and well-maintained buildings that show off the history of the town. When you get here, walk around some. Just up the street from downtown is Coburn Park, a pretty and welcoming green space that also hosts events like the charming summertime gazebo concert series and Dinner in the Park.
Canaan & Lake George
Canaan may be heaven on earth for sportsmen and vacationers alike. Far enough away from it all to give a sense of remoteness, but close enough for it to still be convenient. East of Skowhegan, it is home to the beautiful Lake George Regional Park, 520 acres of well-manicured space with a welcoming beach, 10 miles of looped trails, and picnic facilities. With all there is to enjoy here in summer, paddlers and hikers will be thrilled with this gem. Then when winter comes, so will snowmobilers and snowshoers.
More in Madison
With a downtown on the rise, Madison offers wide, tree-lined streets that just ask you to stick around for a while. Go for a hike or paddle. The river here offers a nice challenge for kayakers as the river works its way toward Skowhegan. Bring your rod, too, because below the dam and off the Historic Pines trail anglers will find excellent trout. And golfers should head out to the Lakewood golf course, to take on the massive 660 yard par 6 (#12) one of the only Par 6 holes in the entire country. Oh, and ask a local where to get a Dynamite Sandwich.
Lakewood Village
A little way up Route 201 from Skowhegan is a different kind of place. A shrine that has since 1901 celebrated the nostalgia of summer theater, where the woes of city living could be left behind in exchange for days of bliss on the lake and on the greens, followed by evenings of dining and entertainment performed by stars of stage and screen. Today the theater, inn, restaurant (open seasonally), and magnificent golf course all still welcome visitors to partake in that grand tradition of summering in the Maine Woods.
Footsteps of History
Rare is the chance to hike a place that, while beautiful, also offers a window into our nation's past that's like Madison's Pines Trail. At just over 3/4 of a mile, this easy riverside hike takes you back to the American frontier and home to Father Sebastian Rasle, a martyred Jesuit missionary—look for markers that tell his tale. Later, Benedict Arnold camped here en route to Quebec. The trail also accesses excellent fly fishing. The trailhead is approximately four miles north of the Norridgewock Bridge.
Learn more: Visit Skowhegan | Madison, Maine | Lake George Regional Park | Lakewood Theater | Maine Trail Finder
---