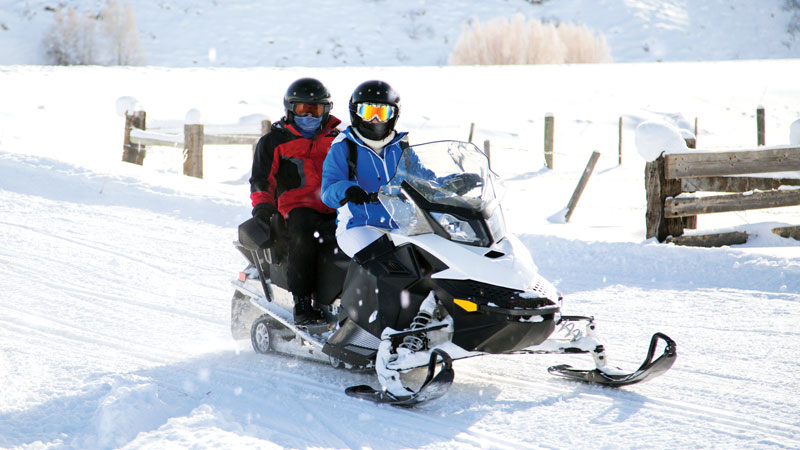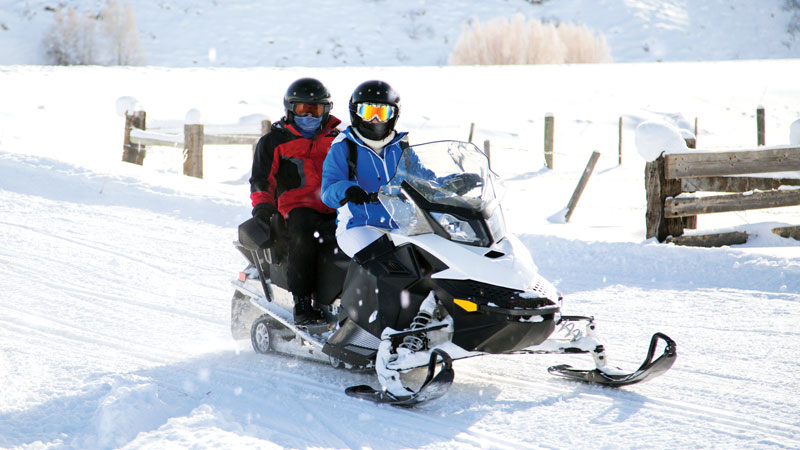 Snowmobiling
Maine's Kennebec Valley was made for snowmobiling.
The region's trails are easy to access, but distant enough from civilization's whirl. The sights and sounds are exactly what you seek. And the community of clubs and people make you feel right at home. So fire 'em up and head out. Let's hit the sights, take in a frozen waterfall or a perfect lookout spot, enjoy a trailside lunch, then off to spot moose or deer. Maybe we'll end the day with a ride across a snow-covered field to catch the sunset.
Have you ever dreamed of traveling by snowmobile through one of the best trail systems in the U.S.? This region alone offers hundreds of miles of well-maintained backcountry trails for all skill levels. And if you desire, you can use your place in Bingham, The Forks, or Jackman as your basecamp for exploring the rest of the state. Whether you're looking for a relaxing family ride, a day of mountain trail exploration, or an overnight excursion, snowmobiling in the Kennebec Valley is a classic, don't-miss Maine experience.
As you travel northward toward the Canadian border, there are so many rider-friendly towns. There is a flurry of club activities, including pancake breakfasts, trail lunches, and other events. Look online for outfitters if you need to rent a machine, or to find a camp or resort for your stay. Many well-established outfitters can also provide you with the benefit of guide services if you don't want to explore on your own. Additionally, most are well-equipped with riding gear and supplies.
Take care of the trails. Follow the rules. Wear appropriate safety gear. Ride on the right. Finally, always tread lightly and be respectful of the land and of nature while you ride. Nearly all the land you are traveling on or across (95% or more) is privately owned. Treat it as if it were your own.
Try something new. If you have never been on a snowmobile, making this exciting sport part of your vacation adventures is easy. Local chambers of commerce or snowmobile clubs can hook you up with outfitters. Or you can join club rides and events to make your visit memorable and successful. Some of the best places to look for "your people" include the bigger towns along Route 201 above Skowhegan, including Bingham, The Forks, and Jackman. An online search will show you where to go.
Visitors have been coming to Maine's Kennebec Valley for years to experience world-class snowmobile riding. Throughout the region, resorts and lodges offer packages allowing you to ride trails to and from their back doors. Your vacation will let you travel through fragrant fir, spruce, and balsam forests and along frozen streams and rivers. You will traverse wide-open fields and vast expanses of groomed trail. The vast network of accessible trails will take you beyond the boundaries of your imagination.
Visitor Resources: Maine Snowmobile Association | Jackman Area | The Forks Area | Bingham Area | Registered Maine Guides
---