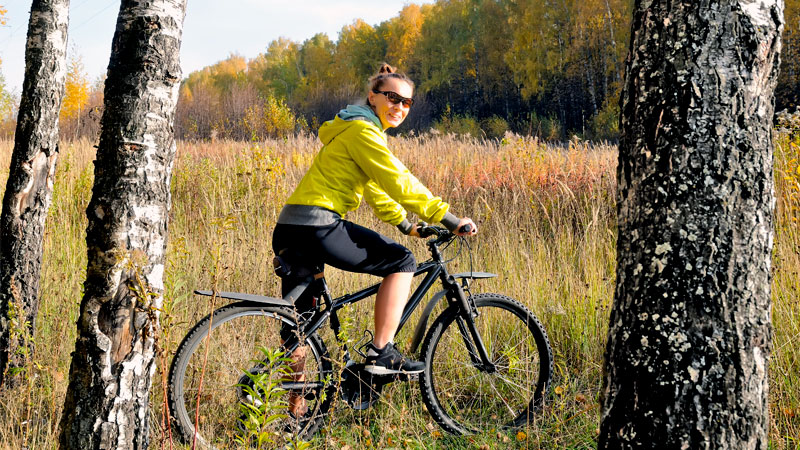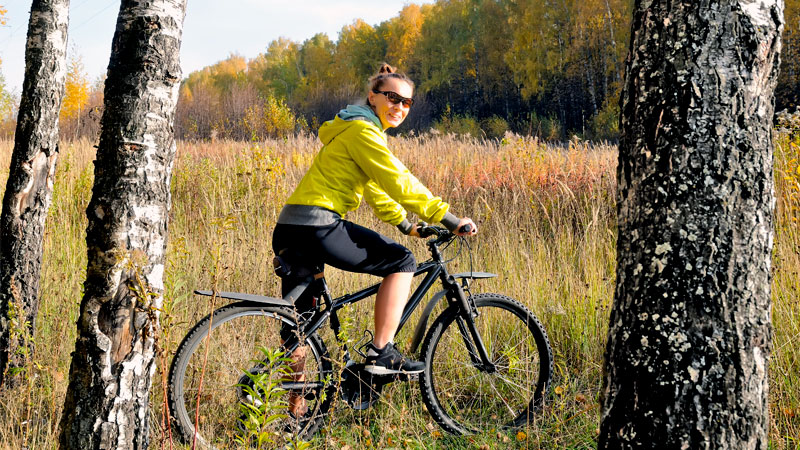 Top 4 Mountain Bike Trails
Quarry Road Trails Location: Waterville | Length: 2.5 to 6.5 miles | Difficulty: Moderate | Directions: Take the Main Street exit of I-95, go south, turn right on Eustis Parkway, then follow it to the end and turn right on North Street, then right again on Quarry Road. There is a parking lot at its end.
While Quarry Road is known for its excellent skiing in the winter, the trail system is home to lovely biking trails when it's warmer out (although you can definitely still go in the winter, just be sure to use Fat Bikes when there's snow on the ground). There are two main biking trails to choose from and both offer impressive views of Messalonskee Stream and picturesque hillsides woodlands throughout. It's the perfect place to take the family!
Kennebec Highlands— "A" Trail Location: Near Rome, Belgrade Lakes Area | Length: 3.3 miles to lookout; 4.5 miles to the summit of McGaffey Mountain | Difficulty: Moderate | Directions: The trail starts off Watson Pond Road, which branches from the west side of Route 27 about a mile north of the intersection of Routes 27 and 225.
The "A" trail is a new trail specifically designed for biking, as well as hiking or snowshoeing in the winter. From its parking area, it winds about 0.3 miles before crossing the Round Top trail—make sure to stay on course as biking isn't allowed on Round Top. After the crossroads, the trail lets you meander along an old logging trail, cross a stream, and then begin to climb the mountain. At about the 3-mile mark, the trail turns southwest and reaches an open lookout area with views of lower Long Pond. From there, it's not long to the summit of McGaffey Mountain.
Mount Phillip Trail Location: Near Rome, Belgrade Lakes Area | Length: 1.5-mile loop | Difficulty: Moderate | Directions: To access this trail, park on the north side of Route 225, directly across from Starbird Lane, 1.5 miles east of the junction of Routes 27 and 225
The trail starts at the northeast corner of the parking lot and splits not long after. You can take this loop in either direction. You'll get to explore a grove of pine trees while you head up Mount Phillip's eastern slope, then climb through a forest of hardwoods and evergreens. When you reach the rocky partial summit clearing, you can stop to take in the views of the Great Pond to the south and the Kennebec Highlands to the west before turning and following the trail back down to the parking lot.
Trails Lake George Regional Park Location: Canaan | Length: 10.1 mile network | Difficulty: Easy to moderate | Directions: There is a box at the trailheads with trail maps and recommended loops.
The all new Modin Trail comes highly recommended if you are looking for a place to mountain bike. The park also offers an easy network of walking and hiking trails that are groomed in the winter for cross-country skiing and winter snowshoeing.
Visitor Resources: New England Mountain Bike Association | Bike Maine | Maine Trail Finder | Visit Skowhegan | Waterville
---